When one engages in the act of hunting, regardless of what animal you're hunting, you'll naturally focus on locations where there is an abundance of the species you're after at the time. Of course, the denser the population of your target species in an area, the more likely you are to find it. Hunters, on the conquest for a specific animal, will travel to an area where they are likely to find it. Texas overflows with wildlife, and one of the most sought after species is the turkey. Turkey hunting in Texas at Nine Bar Ranch will undoubtedly be an experience that you won't forget.
With an approximated turkey population of 600,000, Texas is a spectacular destination if you're eyeing up your next winged fowl. Depending on the region of Texas in which you find yourself, the species of turkey could differ, but know that there will always be some type of turkey around. A typical day in Texas for a turkey hunter involves starting out within calling distance of an area where you know that turkeys normally feed. Once you reach that point, you can "run and gun," as they say, or sit back patiently and call. This first hunt will take place in the morning, with lunch following around noon. With a fully belly, hunters will head back out for an afternoon hunt. Because lonely toms are consistently searching for a hen throughout the day, they will always be out and about.
Now that you have a short background, here are a few tips for a successful turkey hunt in Texas:
1. Get out to your spot before dawn. Sometimes hunters will take advantage of the darkness to sneak in and set up decoys in the "fly down" area.
2. Head back to the turkeys' roost before evening to increase your advantage of cutting them off before they reach their roost for the night.
3. Dress in layers. Spring turkey season in Texas can produce a wide variety of temperatures, so as the day warms up, taking off layers is easy.
4. Head-to-toe camo is a necessity as these winged fowl have 20/20 vision.
5. Invest in snake boots to decrease your chance of contact with cacti, thorns, and brush.
6. Do a bit of research before your adventure – it's helpful to know the standout features of turkeys native to Texas.
Now that you have a few more pointers to make your turkey trip successful, don't waste time scheduling your next adventure. At Nine Bar Ranch, we are fully committed to ensuring that you have an excellent experience and can bring home a high-quality trophy. We are excited to meet you and hope that we can join you on your next turkey-hunting escapade!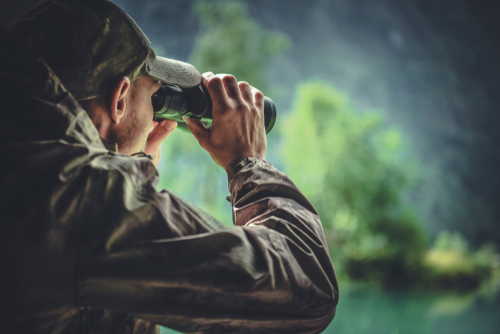 Due to COVID-19 causing mandated stay-at-home orders and a limited ability to do activities that you once enjoyed, it has seemed in many ways as though life had stopped. Fortunately, we have still been able to continue to engage with others from a distance, and make short trips to outdoor spots as long as we follow social distancing rules. There are many activities that can be enjoyed alone, such as running, cycling, hiking, walking, kayaking, and even swimming in open water areas. You can do these activities solo or with a family member with whom you have been socially isolating. Of all of the activities that are frowned upon during a pandemic, what do authorities say about hunting? Texas Park & Wildlife declares that it's actually a fantastic activity for the current times.
In January 2020, the word, "coronavirus" started buzzing around, but few people knew the weight that the novel word would hold. By the final days of February, people began to understand that COVID-19 had imminent implications and was on the brink of reaching people on a large scale. Within a few weeks, this novel virus-turned pandemic forced not only the United States to put life on hold, but almost every other country on the globe. Thankfully, some activities haven't ceased, and one of those happens to be hunting.
Even before the coronavirus surfaced, hunting was a solo or small group activity. Just because COVID-19 is a part of our lives and social distancing is the new normal, it doesn't mean that hunting by yourself or with a friend has to stop. Just be sure to take the appropriate precautions such as wearing a mask if you and your buddy are riding together in the car to the location. Hunting is also an ideal pastime during the pandemic as it can take place in the outdoors and allows space to spread out as needed.
Once you find your picture-perfect hunting spot, settle in and prepare for several hours being at one with nature. If you enjoy being in the outdoors and hunting is a beloved pastime, you're also taking steps to care for your mental health, an especially crucial aspect of wellness during this time. Despite restrictions by various levels of governments, all agree that people should actively seek out ways to relieve stress and anxiety.
The Texas Park & Wildlife officials have deemed it absolutely acceptable and legal for citizens in Texas to get out and get their hunt on. In fact, it will encourage the continuous cycle of population control that occurs within nature. Nine Bar Ranch is still open for business, and we are excited that we can still host avid hunters. We are taking the appropriate precautions to ensure the safety of our customers, but don't worry, we've got it all under control. Your only responsibility is finding the trophy you've been dreaming of. We look forward to seeing you!