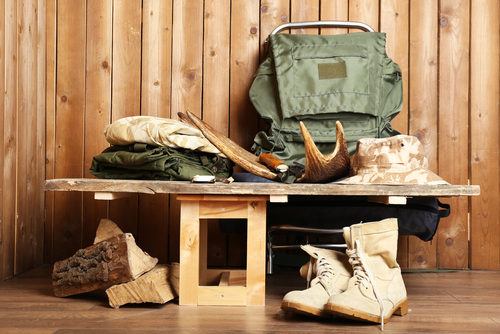 Throughout the country, even for the cooler climates, spring is finally in full swing. For hunters, this is the perfect opportunity to prepare for the next hunt by tackling the care and cleaning of our hunting gear collections. If you're one of the many hunters who arrives home from the final fall hunt worn out and ready to relax, there's a good chance your gear is still waiting to be brought back to life.
Our hunting gear cleaning checklist is as follows:
Run an Inventory Check
Make a list of what you expect to have, or must have, in your hunting kit. If you've loaned, gifted, used up, or lost anything on your last hunt, make note of it here. You may also wish to make notes on anything that needs to be repaired or replaced as you run through your items and check things off your list.
Clean Your Guns, Gear, and Clothing
Ideally, your guns have been cleaned and properly stored since the last time you used them. If not, make that your first priority.
Next, make sure your camping gear, tree stands, blinds, and optics are all clean and in tip-top shape.
Finally, wash your hunting clothing as-needed, make note of anything that needs to be replaced, give your hunting boots some TLC, and make sure your waterproof gear stands up to the standard 10-minute test. If not, it's time to refresh your weatherproofing in advance of your next hunting expedition.
Refine and Refresh Your Organization
Now that you have been through your belongings, take the time to optimize your organization situation. When you're ready to pack up and head out on a hunt, the last thing you want to do is wade through piles of disorganized gear to compile the exact items you'd like to bring along.
Make Purchasing Plans
At this point, you should have a clear idea of what needs to be replaced and purchased to complete your collection. Run a price check to see what you can afford to purchase now, then make a monthly savings goal to help you set aside cash to purchase the remaining items. Remember to save up for your dream hunting trip here at the ranch, too!
Prep Your Vehicle for Hunting
Whether you're heading into the woods or out on the plains, your vehicle needs to be in great shape to keep you safe along the way. In preparation, get a tune-up, and have your trusted mechanic give you the all-clear before you head out.
If you're the spontaneous type, it might also be advisable to keep weather-appropriate supplies in your truck so that it's ready to go when you are. 
We look forward to seeing you this year here at the ranch! Happy hunting. If you have any questions about our hunting packages, hunting during the pandemic, or information about the gear you'll need at 9 Bar Ranch, please contact us today.
The Nine Bar Ranch has been in our family for over 100 years. Thanks to our location and the hard work we've put in cultivating our landscape and our herds of game, Nine Bar Ranch is the ideal setting for your adventurous hunting getaway. We are immensely proud of our ranch. Today, we're sharing what our customers say sets us apart from other North Texas hunting ranches.
1. Nine Bar Ranch Is Home to Year-Round and Seasonal Game
No matter when you want to enjoy a hunting vacation, our ranch has robust game waiting for you. We tend to a variety of species, guaranteeing that you'll be able to set out to track down your target any day the weather permits. While certain game can only be hunted during permitted windows, other species can be hunted any time of the year.
2. Native and Exotic Game
Both native and exotic game roam across our sprawling 12,000-acre working ranch. Choose from Blackbuck antelope, Fallow deer, wild boar, red deer, Sika deer, scimitar-horned oryx, whitetail deer, wild turkeys, and doves, then contact us or book desired your package online.
3. Home-Cooked Meals and Nearby Restaurants
Say so long to canned campfire beans, MREs, and jerky! Our hunting and lodging packages include hearty, delicious, homecooked meals. We think nothing tastes better after a long day out on the hunt, but if you would rather, you can head over to nearby restaurants to refuel.
4. Truly Comfortable Accommodations
No one says their favorite part of hunting is sleeping on the ground, and we're sure you're no different! Conclude your long days out hunting in one of our sparkling clean, supremely comfortable hunting lodges. Enjoy your relaxing evenings fireside, then kick off your boots and get a great night's sleep before your next day of hunting.
5. Skilled Hunting Guides
When you hunt at Nine Bar Ranch, you'll be assisted by one of our highly trained, skilled hunting guides. Our guides combine their knowledge of the ranch's game with a perfect balance of commitment, determination, and upbeat humor.
Despite the tasty grub we serve, the cozy hunting lodges, and our magnificent game animals, we've heard from many guests that the guides have gone above and beyond to such a degree that they'll be returning to hunt with them again and again!
6. Near the Metroplex, Yet a World Apart
Despite our convenient location a mere 45 miles northwest of the Dallas/Ft. Worth metroplex, our scenic ranch feels utterly separate from the cities. Escape the daily grind, refresh your mind, improve your hunting skills, and head home with beautiful game from Nine Bar Ranch.
7. Every Hunting Package is the Perfect Blend of Excitement and Relaxation
Our hunting packages are proof that hunting trips don't have to be all about hard work! Your Nine Bar Ranch hunting package will deliver exciting hunts, relaxing campfire evenings, excellent company, and plenty of time to enjoy the ranch's gorgeous scenery.
We invite you to let go of your stress and find your joy with us at our family's ranch. Whether you're an experienced hunter or a first-timer, we look forward to delivering the best hunt Texas has to offer. Contact us to schedule your vacation today!