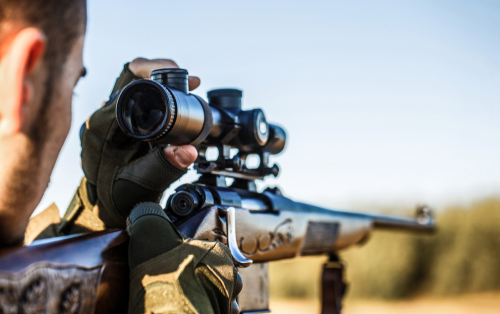 As the pandemic continues across the country, Americans are increasingly turning to hunting as a means of escaping the chaos. Hunting and fishing permits are rising to unprecedented levels, and millions of new firearm background checks have been completed since the first lockdown. So, what exactly is the draw? Let's talk about why hunting in TX is the perfect pandemic activity for individuals, couples, families, and friend groups.
1. Hunter Safety Courses are now Online
Due to the limitations of social distancing, nearly every state is now offering hunter safety courses online. If you're looking for a new hobby that you can learn from anywhere, hunting is ideal.
2. Hunting Gives Us a Break from Masks and Social Distancing
Though there's nothing quite like a solo hunt, hunting is the ideal pandemic social activity. Who isn't tired of masking up and standing back when we leave our homes?
Hunting offers a safe return to the outdoors. While hunting, we can ditch our masks and spend time with just our friends, family, and loved ones.
3. Hunting Provides Us with Alternative Food Sources
Food scarcity was a frightening fact of the pandemic for millions of Americans. In addition to unemployment and the financial peril that comes with it, our meat supply was threatened at several points during the last 18 months.
Whether you simply want to save money, or ensure that your family and loved ones have food security through food supply shakeups, hunting is the answer! Once you can safely hunt your own game, you'll eat like royalty for pennies on the dollar.
We suggest venison stews, braised birds and venison shoulder, roasted duck and turkey, tender wild boar, and succulent pheasants, all of which are great ways to introduce game to anyone who has never before experienced anything but grocery store meat.
4. Hunting Connects the Youth of 2021 with Their Historic Roots
If you are feeling like your children are lost in their smartphones, you're not alone. As much as we all love the internet, it's also important for families to spend time together without the distraction of social media.
Hunting connects families with each other, of course, but it also gives children and teens an ideal way to connect with their history. We are all descended from ancestors who hunted, and it's always empowering for young people to realize they are just as capable of surviving out in the real world.
There's a sense of self-sufficiency and independence that comes with successful hunting, which is exactly what Nine Bar Ranch offers everyone who comes to hunt with us. To learn more about our pandemic-safe hunting packages, click here or contact us today.
We are excited to welcome new hunters! We invite you to come and learn more about the hobby, discover how hunting is essential for conservation efforts around the world, and head home with a bounty of your own game to enjoy.
This is the time of year when Texas hunters begin buckling down and preparing for the fall hunting season. Deer, turkey, and doves are all in season in the wild, though hunting here at the Ranch is far more varied. Today, the team at Nine Bar Ranch is sharing our Top 5 North Texas hunting tips as the fall season approaches. Let's get ready and get hunting!
1. Clean and Check Your Gear
Now's the time to give your hunting gear some TLC. Make sure your rifles, bows, and clothing are in tip-top shape. Organize your gear so that you can easily pack up and head out anytime you like.
2. Make Time for Target Practice
It's surprising how much our aim can suffer after just a few months off. Before you head out on your fall hunting trips, make time for target practice. By brushing up on your skills now, you'll make it much more likely that your first big hunt of the season is successful.
3. It's Turkey Time
Turkey hunting isn't just for spring, though some of the same tactics used then will be helpful now. Remember, wild turkeys have great eyesight, so don't skimp on camouflage gear. In the fall, turkeys can gather in groups of over 100 individuals, making it much easier to find them—but all the more likely that one of them will spy you!
The hormonal frenzy that ensures turkeys will respond to our calls in the spring isn't a helpful factor in the fall, so using a scout to find a large flock, then moving stealthily is a better fall hunting tactic.
If you're out in a blind this fall hunting larger game, you may find that you also have the opportunity to bag your Thanksgiving bird without making any special effort!
4. Doves in Droves
This year's weather and habitat conditions mean that we should see a huge surge in dove populations this fall. If you love to hunt mourning, white-winged, and white-tipped doves, this year looks promising for you!
The state's biologists have been hard at work tagging doves to measure our hunting yields. If a dove you hunt has a leg band, please report it to help with ongoing observation efforts.
5. Brush Up On Your Safety Measures
In Texas, the fall hunting season is a busy one. Even in less active seasons, no less than half a million hunters are out hunting deer, turkey, and doves. Remember to avoid back, blue, and red clothing, since these colors are more likely to confuse hunters.
If you want to pursue some game that's far more exotic than the wild animals Texas lands harbor, contact us. We're proud of the huge variety we cultivate on our massive lands, and we love sharing our bounty with our guests.
To book your stay, or ask questions about our hunting packages, just get in touch. We look forward to hunting with you this fall!