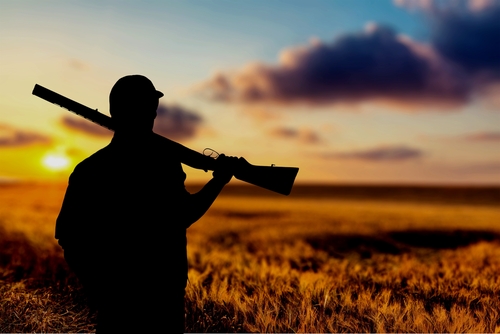 With the current state of affairs in the US, specifically the unpredictability of the course of the novel coronavirus COVID-19, many people are looking for any activities that they can participate in outdoors. Since the virus travels more readily indoors, it has been advised that we spend as much time as possible engaged in outside activities, while also adhering to your state's social distancing rules and recommendations. Hunting in Texas (and in many states across the country) is a great way to get some fresh air and some socially distanced fun while we wait for this pandemic to pass.
That being said, it is important to be as safe as possible even while socializing outdoors right now. Some safety tips for Texas hunters include:
Take Day Trips – Most hunting trips involve some form of camping. With that naturally comes outdoor food preparation, bathing, toileting, and hygiene. Close quarters involved in tent camping, combined with outdoor bathing, toileting and washing are all activities to avoid right now. Stay COVID free by taking day trips with very small groups – preferably only with close friends or family members with whom you have been quarantining throughout the pandemic.
Wear Face Masks – If you come into contact with other hunters, hikers, dog walkers, and the like, have a protective face mask ready to use. This protects others in case you are an asymptomatic virus carrier or if you have recently contracted the coronavirus and haven't displayed any symptoms yet. Wearing a face mask will also protect you just in case anyone you meet up with is sick and doesn't know it.
Explore New Haunts – Reports vary wildly regarding the number of hunters out and about in any one location. Most people are reporting larger numbers of hunters in the woods they typically visit. If you arrive at your target area for the day only to find it swarmed with too many people to be able to socially distance, try another spot. It's a good idea to have several alternate locations planned just in case you need to move. Some careful pre-planning could salvage your whole day of hunting.
Observe Travel Bans – Before taking off from home for your next hunting trip, be sure you're aware of any county or state travel bans or restrictions. If you have any friends planning to come into Texas from out of state, it's important that they abide by all CDC recommendations and know precisely how long they'll have to stay in Texas if any travel bans are in place.
Note New Hours – Some State Parks and recreational areas have listed amended hours during this time. In order to avoid arriving just to have to turn around (or wait several hours), it's always pertinent to check on any new schedules before you set out for the day.
Fishing and hunting in Texas can still be a good way to get active, absorb some vitamin D, and of course, acquire some delicious food for your family – especially important for those who are out of work or on a limited hours schedule with reduced pay. As long as you bone up on (and are willing to follow) all COVID-19 rules, you should still be able to enjoy your favorite hobby as you look for safe ways to stay busy this summer.