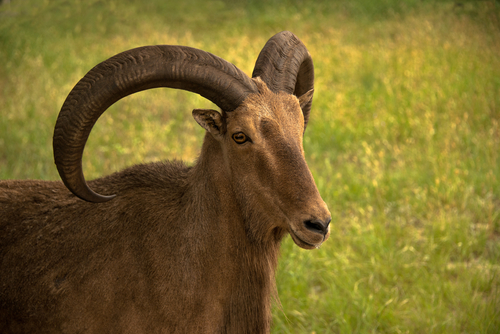 When you picture yourself on that dream hunting expedition, where does it take you? Perhaps you picture yourself trekking through the South African plains to find a greater kudu antelope. Maybe you envision going all the way to Australia, where the Asiatic water buffalo roam. What would you say if we told you that a North Texas exotic hunting experience might be just as mind-blowing as any trip abroad?
Nine Bar Ranch in Decatur has more than 12,000 acres of vivid scenery and vibrant hunting grounds, with at least 30 types of animals from around the world, and year-round hunting with no off-season. Of particular interest to those looking for new experiences, we have 2,500 acres fenced off exclusively for exotic game hunting.
At family-owned Nine Bar Ranch, we treat you like family, from selecting your perfect adventure to preparing your guaranteed, unique trophy – with no trophy fees. Depending on the animal you're hunting, you can choose from our popular two-day overnight stays, or even longer excursions to hunt predators.
Expert education about each animal; experienced guides; delicious, home-cooked meals; lodging in our comfortable, clean, ranch-style accommodations; and skilled field dressing, skinning, and quartering of your animal are all standard in every package with us.
Of course, you're here for the animals, and our game species will thrill even the most jaded hunters out there. For example, you can be sure to find some of these exotic offerings:
Aoudad sheep (or Barbary sheep), originally from North Africa's Atlas Mountains and Barbary Coast, first came to Texas in the late 1950s.
The red stag is native to New Zealand, but it's also available to hunt thousands of miles closer to home here at Nine Bar Ranch from mid-August to the end of February.
The scimitar-horned oryx, once abundantly widespread in North Africa, can now be hunted year-round with us in northern Texas.
Sika deer (or Japanese deer) are also available for year-round hunting. They usually grow from 25 to 40 inches tall, with amazing antlers of four to six tines per side, much like those of the elk.
Additionally, there are plenty of whitetail deer, doves, hogs, turkeys, and other more traditional game species here at Nine Bar.
You can even experiment with new and exciting methods of hunting. If you're used to Stand Hunting or Spot-and-Stalk, you could try the African method and go for Safari Style. Bow Hunting, Rifle Hunting, Black Powder, and Handgun are some of the other options available. We'll be glad to help you choose the most appropriate method based on the animal you're hunting and the terrain you'll be traversing.
Owned by the Waggoner-Sauder family, a prominent fixture in the Texas ranching community for decades, the historic, 100-year old Nine Bar Ranch is now a premiere hunting destination in northwest Texas, just 45 minutes northwest of Dallas/Fort Worth. We aim to provide you with the on-target experience of a lifetime, and we're proud and pleased to help you find the best game in the area – even in the world. We're looking forward to welcoming you to Nine Bar Ranch with our special brand of Texas hospitality when you come hunt with us!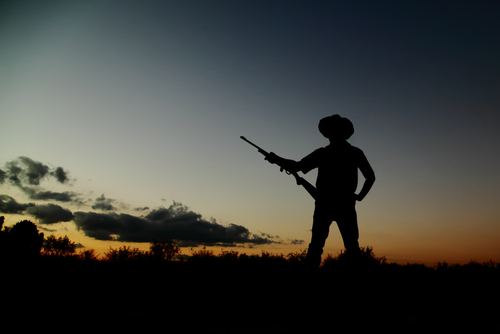 Have you been dreaming of creating a once-in-a-lifetime hunting trip this fall? If the arrival of autumn makes you want to trek into the woods and never come back, you're in good company – and you certainly don't have to look too far for a fantastic hunting trip; you have an outstanding opportunity for an unparalleled hunting adventure in North Texas. Sure, it's possible to spot whitetail deer in numerous areas of the country; however, not only does north Texas provide a diversified population of animals, but also a unique environment in which to capture your trophy. Nine Bar Ranch, comfortably situated just northwest of the busy Dallas/Fort Worth metroplex, is an excellent place to plan your next hunting excursion.
Many of the area's most beloved businesses, like our ranch, are tethered to a long line of family tradition. Since 1917, Nine Bar Ranch has been a staple of the surrounding community. Initially bought at 1,470 acres by J.T. Waggoner, his passion for the trade was obvious as he continued to expand the ranch until he passed away. Over the last 100 years, the ranch has been operated to its full potential by the Waggoner-Sauder family, and now spreads over an expansive 12,000 acres of spectacular Texas landscape.
Among those 12,000 acres you'll find all sorts of interesting topography, but at the same time, the Nine Bar Ranch accommodations are contiguous to the hunting grounds. This proximity offers the perfect distinction between hunting land and the accompanying facilities. At Nine Bar Ranch, we provide an outstanding hunt, delectable meals, lovely lodging, and assistance with the harvesting process. For newbies at this step in the game, we will assist you with each part of the harvest and dressing. We know that all of the "extras" on the hunting trip are just as important as the hunt itself.
At Nine Bar Ranch, you have a wide variety of hunting packages from which to choose. We offer packages that include North Texas exotic hunts such as aoudad, sika, and scimitar horned oryx as well as North Texas deer hunts, turkey hunts, and hog hunts among others. In addition to single hunts, we offer group dove hunts on specific dates in September as well as special seasonal packages. Over the years, those who've hunted with us find that it's nigh on impossible to name all of the benefits of investing your time and money in a hunt at Nine Bar – we love that, and we want all of our hunters to feel the same way. 
We do allow you to use your choice of weapon, with only one limitation – AR weapons are prohibited. In terms of available dates for your hunting adventure, we have quite a variety. Most of our hunts are two days in duration unless otherwise specified or requested. Make sure to contact us to set up your preferred time. Another thing we're proud of here at Nine Bar is that there are no trophy fees associated with our packages. That means you're free to hunt without any extra cost.
No matter what kind of game you'll be hunting in north Texas, it truly is an amazing opportunity. With countless available trophies and a spectacular hunting scene, you won't want to leave! Nine Bar Ranch continues to hold a special place in our hearts and in those who have experienced life here. We are absolutely confident that you'll feel right at home on our beautiful property.