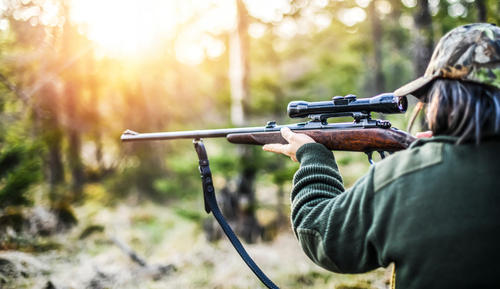 If you consider yourself a hunting enthusiast, some of your regular hunting activities may include things like: taking a leisurely walk to the field across the street, driving to a wooded area close to home, or even streaming your favorite hunting programs. While you undoubtedly get enjoyment out of those endeavors, let's kick it up a notch. Have you ever imagined yourself going on a hunting trip in the Texas wilderness? At Nine Bar Ranch in Decatur, Texas, you'll be served delicious home-cooked meals and have access to a skilled guide and a wide array of open hunting lands. Nightly chats with fellow hunters around a fire followed by a great night's sleep in a comfortable cabin – it's every hunter's dream. If you're ready for hunting in Texas, with awesome tales to tell when you return back home, keep reading. 
When just starting out, your first step is to educate yourself. It is extremely important for a hunter to be informed on gun safety, hunting seasons for specific animals, animal tendencies, trophy care, and many other aspects of the sport. Hunting license requirements will vary by state; in fact, some states require different licenses depending on what animal you're hunting.
The next step is to become familiar with your state's regulations. Some states offer actual hunting courses that an individual can take as there are varying laws and regulations specific to each state. Some states actually have laws that are distinct to each county. It's crucial that you are aware of these and abide by them so that you don't lose your privileges.
The next step may seem obvious: you have to purchase your license. Depending on what animal you're going to hunt, it's possible that you may need "endorsements" along with your license.
Perhaps the most exciting step when preparing for an expedition is to round up your hunting gear and get practicing. Head out to your local sporting goods store to find some camouflage gear, all-weather shoes, and possibly a firearm. If you're unsure about everything you'll need, there will most likely be an employee that can give you some tips. If you're hunting in a cold-weather environment, be sure to find clothing with down or another type of insulation.
Finally, while you don't have to be a veritable sharpshooter before you can go hunting, it does help if you're at least a good shot – for obvious reasons. Before you even attempt to hunt, be sure that you have the appropriate type of weapon; this can make a huge difference. Once you have honed your skills, you'll want to maintain them as well as aim to improve. Don't be afraid to try out the local range!
When you're ready to go on that hunting trip of a lifetime, give us a call at Nine Bar Ranch. Not only are we a renowned staple in the local community, but we have a massive ranch on which you can hunt both exotic and native species. We're excited to hear from you!

When one engages in the act of hunting, regardless of what animal you're hunting, you'll naturally focus on locations where there is an abundance of the species you're after at the time. Of course, the denser the population of your target species in an area, the more likely you are to find it. Hunters, on the conquest for a specific animal, will travel to an area where they are likely to find it. Texas overflows with wildlife, and one of the most sought after species is the turkey. Turkey hunting in Texas at Nine Bar Ranch will undoubtedly be an experience that you won't forget.
With an approximated turkey population of 600,000, Texas is a spectacular destination if you're eyeing up your next winged fowl. Depending on the region of Texas in which you find yourself, the species of turkey could differ, but know that there will always be some type of turkey around. A typical day in Texas for a turkey hunter involves starting out within calling distance of an area where you know that turkeys normally feed. Once you reach that point, you can "run and gun," as they say, or sit back patiently and call. This first hunt will take place in the morning, with lunch following around noon. With a fully belly, hunters will head back out for an afternoon hunt. Because lonely toms are consistently searching for a hen throughout the day, they will always be out and about.
Now that you have a short background, here are a few tips for a successful turkey hunt in Texas:
1. Get out to your spot before dawn. Sometimes hunters will take advantage of the darkness to sneak in and set up decoys in the "fly down" area.
2. Head back to the turkeys' roost before evening to increase your advantage of cutting them off before they reach their roost for the night.
3. Dress in layers. Spring turkey season in Texas can produce a wide variety of temperatures, so as the day warms up, taking off layers is easy.
4. Head-to-toe camo is a necessity as these winged fowl have 20/20 vision.
5. Invest in snake boots to decrease your chance of contact with cacti, thorns, and brush.
6. Do a bit of research before your adventure – it's helpful to know the standout features of turkeys native to Texas.
Now that you have a few more pointers to make your turkey trip successful, don't waste time scheduling your next adventure. At Nine Bar Ranch, we are fully committed to ensuring that you have an excellent experience and can bring home a high-quality trophy. We are excited to meet you and hope that we can join you on your next turkey-hunting escapade!