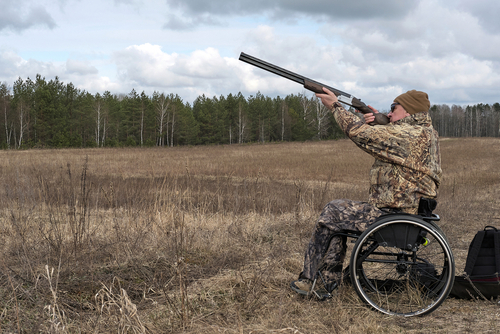 At Nine Bar Ranch, we believe in your right to make lifelong memories on the hunt of your dreams—regardless of any physical challenges you face. We welcome wheelchair users, blind and visually-impaired hunters, Deaf and hearing-impaired hunters, and individuals with chronic illnesses. We make hunting with a disability a reality!
We Are Adaptable
When you book a hunting adventure at Nine Bar Ranch, we want you to reach out to us and let us know how we can accommodate you during your stay. Whether you will be using a wheelchair, will be able to walk only short distances, or would require a sighted hunter to work alongside you as your guide, we will be delighted to adapt.
We treat all guests with equal care and respect, irrespective of their special needs.
We Provide Kitchens, and We Will Cook for You!
Do you have food allergies? We understand how stressful dining out can be when you're facing serious food allergies. You have to speak with the staff of each establishment to ensure your needs are understood, then trust that the kitchen follows strict protocols to prevent cross-contamination.
With us, you can skip the worry, the hassle, and the risk. Our on-site kitchen will enable you to prepare your own food that's safe. Save time, and relax to the fullest—stay right here on the Ranch and enjoy yourself!
Or, perhaps you have physical limitations that make it difficult for you to cook, or drive off-site to purchase meals. In that case, you'll be glad to know that we have an outstanding cook on staff who can prepare home-made meals for our guests.
Either way, rest assured you'll be right at home here at the Ranch.
Hunting while Blind or Visually-Impaired
In Texas, blind hunters can hunt! Provided you have a signed statement from your physician attesting your blindness, you need only be accompanied by a licensed sighted hunter who is 13 years or older.
The great news is, that means that any one of our guides will be able to hunt alongside you for any type of game we have here at Nine Bar Ranch! Simply bring your doctor's statement, and carry it with you on your hunt.
We Can Dress and Butcher Your Game
On a hunt, one of the biggest physical challenges is loading up felled game, bringing them back to the cabin, dressing, and butchering the carcass. Here on the Ranch, you can add these services to your hunt, and we'll handle the rest! Regardless of your physical abilities, you deserve to bring home the game you've bagged.
Over the years, we've seen how impactful it is for disabled hunters to realize their dreams at Nine Bar Ranch. We see the joy on their faces, hear their whoops of victory, and have the pleasure of welcoming them back season after season.
If you would like to join us at the Ranch for a life-changing hunt, contact us today.