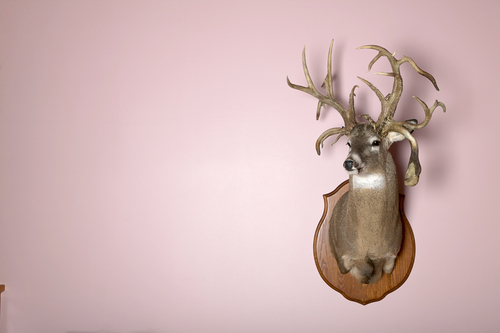 Nothing exists in the sphere of North Texas hunting that incites heart palpitations like the sight of a deer that quickly scampers into the brush to conceal itself. Suddenly, a tiny shadow that enters your peripheral vision causes a rapid turn of the head, turning that translucent speck into a well-defined image. Before you know it, the stealthy animal becomes a shadow once more. Just the prospect of going home with one of these trophies makes you itch even more to get out in the woods. Your tree beckons you like a lighthouse summons a ship. Sure, it's possible to head out to the woods via your well-trekked path, but the idea of having a unique hunting experience at one of the best ranches in Texas should be even more enticing. At Nine Bar Ranch, providing a superior hunting experience is our passion and priority. We also give our customers tips and tricks on the final steps in taking care of their new trophy, a beautiful white tail deer.
Situated in Decatur, Texas, about 45 miles northwest of the Dallas/Ft. Worth area, Nine Bar Ranch boasts a 12,000 acre plot of land on which our hunters attest to an excellent crop. Lodged in a long history of Texas tradition, Nine Bar continues to thrive in the Texas hunting industry. Our traditions are rooted in creating a positive and successful environment for each of our customers. Primarily, we ensure that our grounds are well-kept and that customers are able to obtain the intended trophy when they come to hunt. We place an emphasis on assisting with each step of the process, from guiding hunters to their desired target to providing scrumptious meals. One of the salient steps in taking care of the trophy is ensuring proper processing. Don't worry, we've got that covered too.
Once your target has been taken down, it's crucial that the proceeding steps are completed in the appropriate amount of time and in a proper manner. Before you do anything else, roll up those sleeves; it's about to get messy. After the kill, you'll want to open the chest of the deer and extrapolate the internal organs as quickly as possible. This step will inhibit the growth and spread of bacteria by accelerating the cooling process. We suggest using a knife specifically made for this task.
Next, you'll hang the deer up in the appropriate manner and begin the skinning process, using a skinning knife for this. Your next step in processing is quartering the deer. Once the quarters are free, it's crucial to place them in a cool container for preservation. Here is our tip: find a cooler that has a drain plug. Place the quarters on ice and allow the blood to drain off. According to regulations, if you are at camp, you are permitted to remove and prepare a portion of the animal as long as all tagging and proof of sex remain intact until the deer has reached its final destination.
As long as the various parts of the deer are kept in cool conditions for preservation, they will make an excellent source of meat. On the other hand, if you're choosing the taxidermy route for your deer, you'll obviously need to take alternate steps. You'll want to freeze the deer or other animal until you begin the taxidermy process in order to preserve it as well as possible. It is possible to complete the taxidermy process on your own, if you have the proper tools. If you prefer to take it to a professional taxidermist, just be sure to freeze it during the time in between.
At Nine Bar Ranch, we will assist you and provide advice for each of these steps whether that be killing your target or knowing how to properly preserve it. We want your experience with us to be outstanding. Our customers have sustained our long-standing business and we strive to show our appreciation for that with each and every new or returning individual. Don't hesitate to contact us by phone or email; we can't wait to meet you!