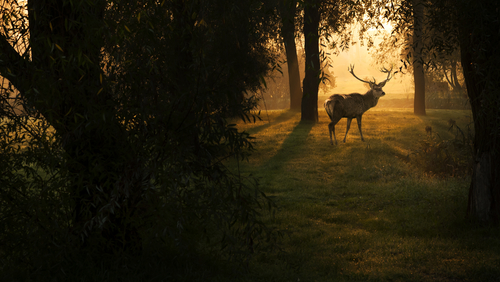 As it is every year toward the end of the summer season, most people are eagerly anticipating the cooler weather of Fall. Especially in Texas, Autumn brings with it a relief from sizzling temperatures that reach their peaks in August. For the outdoorsman, another thing to look forward to as the seasons shift is deer hunting season in Texas.
Now's the time to get prepared for your first deer hunt of the season, even though deer season doesn't officially begin for another several months. Additionally, most avid hunters are so eager for the start of deer season that just the act of getting ready for deer season is exciting. Yes, you may find yourself prepping for Fall hunting while sweat pours off your body and drenches your clothing, but it will all be worth it when you can truly enjoy the Fall hunting season with everything in its place. Some things that should definitely be on your deer season preparation list include:
1. Clearing a hunting trail: If you regularly hunt in the same location, especially if it's on your own property, make sure you've got a clear walking path well before the date of your first Fall hunt. By clearing your way of large branches and limbs, you'll be able to move easily and stealthily when the time is right.
2. Repairing your hunting stand: If a hunting/tree stand is an important part of your hunting plan, a crucial pre-season task is making the necessary repairs to damage that may have occurred since you last inspected it. You'll want to check for and fix any: rust, rot, tears, and breaks. Inspect all sides of the stand, as well as the interior, including straps, seats, and legs. VERY IMPORTANT: Thoroughly inspect for nests of any kind and clear them safely and humanely, where possible.
3. Practice and dial in your weapon: If you've been taking a break from hunting since last year's deer season, refresh your mind and body with your hunting rifle or bow. Spend ample time at the range shooting and dialing in your weapon of choice. Discovering a problem with your hunting weapon when the perfect deer is within your sights will likely leave you without a trophy.
4. Inspect your gear and hunting apparel: This is especially pertinent when it comes to hunting boots. If you've gone a whole year without wearing them or if you've recently bought a new pair, you simply must break them in prior to wearing them on a hunting trip. Failure to do so will leave your feet blistered and aching. Try wearing your boots for a few days a week leading up to deer season.
Here at Nine Bar Ranch, we have experts on staff ready to answer any lingering questions you may have about prepping for the upcoming deer season in Texas. Interested in booking an organized hunting trip? Yeah, we do that too! Give us a call with questions, or to schedule the Texas deer hunt of your dreams. Like you, we are all super excited for deer season.