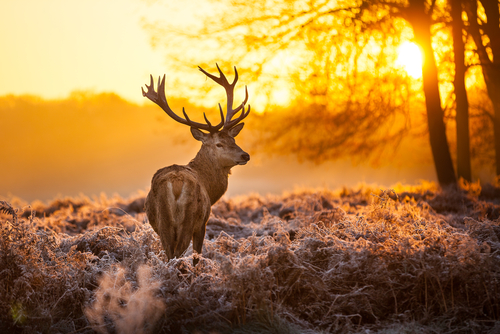 From the moment you step out of your car and onto the soil of Nine Bar Ranch, you'll notice a change in your mindset. Leave behind the hustle and bustle of modern living and come enjoy a North Texas deer hunting getaway. If you're wondering what to expect or where to get started, here's s step-by-step guide to your journey.
Step 1: Book Your Package
Whether you're a seasoned hunter or a beginner just getting started, you can be sure that we have packages that everyone will enjoy. First things first: decide what time of year you'll be staying with us and whether that coincides with any seasonal hunts. We offer hunts of a variety of game to choose from, including both local and exotic species. To name a few of our most popular hunts: Aoudad, Axis, Blackbuck Antelope, Fallow deer, Sika deer, Red deer, White tail deer, Scimitar Horned Oryx, Turkey, Hog, and Dove. 
Step 2: Enjoy Your Accommodations
Our spacious lodges offer full kitchens, bathrooms, laundry appliances, and all the amenities you'll need to ensure your comfort for the duration of your trip with us. Our lodgings at Nine Bar are able to accommodate both large or small parties. Lodge 1 offers three bedrooms and two bathrooms. Lodge 2 boasts two bedrooms and one bathroom. In addition to our lodges, all of our guests have access to our game room, party barn, and outdoor seating for relaxation when you aren't in training, on the hunt, or cleaning your kill. One note: for the safety all of our guests and for the sake of your animals, we ask that no pets accompany you to Nine Bar for your stay.
Step 3: Hunt
You came here for the experience, and we can guarantee that this is one that you won't forget. With more than 12,000 acres to explore, you'll never have the same experience twice, even if you become a regular here! All hunts include guide service to help you navigate the ranch. The land is divvied up into 2,000+ acre tracts, each with varying habitats for the different animals on the ranch. The land is fully populated with our incredibly varied list of species. We have two natural creeks running through the property as well as water tanks to keep the animals evenly dispersed throughout the property.
Automatic rifles are not permitted at the ranch and if you have any other questions about what weapons are appropriate, we would be more than happy to answer them.
Step 4: Process Your Trophy

After a successful hunt, skinning racks and walk-in coolers are available to process your trophy. All packages include full-service care for your animal. Field dressing, skinning, and quartering are all part of the care of your trophy so you can take it home to enjoy. Another bonus of hunting with us is is that there are no trophy fees at Nine Bar Ranch.
Step 5: Relax and Unwind
As we are processing your trophy, you can put your feet up and relax and unwind in our cozy lodge. Enjoy home-cooked meals prepared in front of you. As weather allows, an outdoor fire pit is available to continue to enjoy the outdoor experience.
Step 6: Come Back Again and Again
Once you get a taste for North Texas deer hunting, you'll want to return again and again. This is the experience of most clients who visit us – they quickly shift from customers to friends! Our family-run ranch makes you feel like you're a part of our family, so we encourage you to come back for a visit as often as you like. With so many options for a hunt, you will never run out of places to explore and memorable experiences that will last a lifetime